Written and Performed by Georgie Jones
Directed by Jenny Bakst
Presented in the Sackler Space, The Roundhouse
3rd May, 2019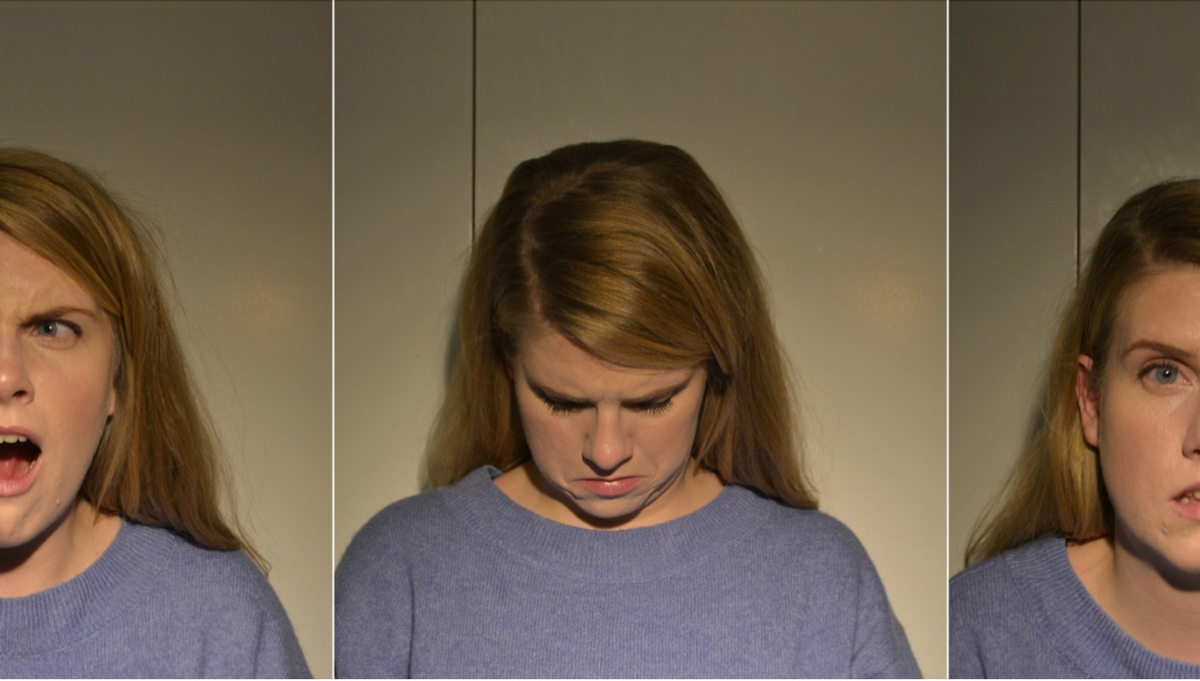 Georgie Jones is 25 (ish) and she's cracked what it means to be a woman. Just kidding, she's on the same messy journey as the rest of us; unpicking sexist conditioning, examining questions of philosophy and identity, and navigating the same pitfalls that have stymied generations of women and girls. In this one-woman show, she jumps back and forth through personal stories from various stages of her growing up, interweaving them with spoken word poetry, comically exuberant dancing to accompanying 90s jams, and faux lectures on the wide-ranging topic of femininity. Dressed in denim overalls and with a face bare of makeup, it was clear from the get-go that this show would be performed with honesty and strength of character and conviction.
From the press release, I had expected this show to be mainly about sex (mis)education and how it screws all of us over, and at first it did largely gravitate back towards this theme. However, as the show progressed, it tended to stray further into the more generalised and ambitious territories of love, existential crises, and identity. The viewpoints explored in these facets were relatable, eloquently put, funny, and clever, but I felt that the punch of the show was diluted by its attempted breadth of focus. This caused a lack of direction and momentum, which I suspect Jones felt as well, as her performance – so strong and self-assured at the start, hitting every beat and knowing her work inside out – became shakier as the show went on.
As a 25-year-old woman myself, much of Ish's content resounded with me very deeply, even though there were some very English references and rites of passage which hadn't been part of my growing up Down Under. But the 90s nostalgia was strong, and catapulted me right back into a teenaged world where everything was at once much simpler (I was struck by how we were the last generation to escape high school mostly unscathed by the advent of mobile internet, cyber-bullying, and social media politics) and much, much more complicated. Jones portrayed this world with wit and warmth, poking fun at herself and us all whilst still treating her younger self with compassion and affection. There were laugh-out-loud moments, a lot of sympathetic groans, and winces of "yep, I was guilty of that too…" The early pubescent panic of staring at the hair removal methods on offer at the pharmacy was brought back to me viscerally, and the grateful love with which Jones spoke about her female friendships made me appreciate my own anew. Mentions of a possible rape and resulting trauma lent some balance to the emotional range of the piece, but could perhaps have been explored with more nuance and sensitivity to avoid emotional whiplash for the audience.
Overall, this was a strong start for a young performer, demonstrating formidable stage presence as well as a compelling way with words. Ish… itself has great potential, and a lot of sparkling gems scattered throughout its content. However, I feel that the script could benefit from some streamlining, possibly being pared back to its strongest core theme of sex education, what we weren't told, and how we found it out along the way. If this were undertaken, it could be an excellent, punchy half-hour performance which would bring laughter and contemplation to a festival stage. But even as it is already, the merits of the show make it a very enjoyable hour of theatre, and will certainly engender discussion and personal reminiscence all the way home.
Apologies to Georgie for the tardiness of this review, and thank you for the opportunity to attend your show. 
Previous review: Fighter @ Stratford Circus Arts Center