Written by David Greig
Directed by Jessica Lazar
Designed by Anna Lewis
9th January – 2nd February 2019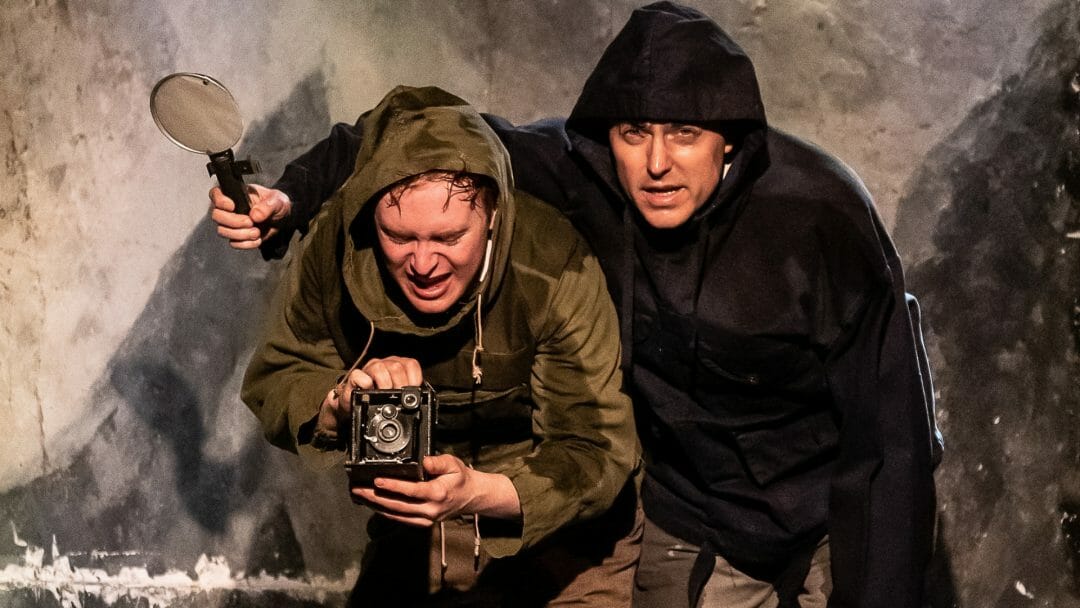 In this intimate production of David Greig's 2002 play, we are transported to a world of harsh weather, barren horizons, naive hope, and seething ideological tensions. John and Robert are two young ornithologists, selected by the Ministry for an opportunity they would only have dreamt about: to spend one month in a remote island in the Outer Hebrides, observing the nesting habits of rare birds which remain obscure in scientific journals. Alone in this harsh environment with only an old Scottish shepherd of difficult temperament and his sheltered niece, the young men discover that all is not as it seems with the island, their mission, the birds, their neighbours, or even each other.
At two hours and fifteen minutes (including interval), I'm pretty sure Outlying Islands is the longest piece I've seen in a London pub theatre. The story simmers along on low heat, with events taking a while to come to the boil – but when they do, and tensions bubble over, the plot's twists and turns take the audience by surprise (or me, anyway). Most of the action takes place in a central stage space which serves as the abandoned "pagan chapel" where John and Robert are camping out for their stay, and this cramped stage and audience space excellently conducts the feelings of claustrophia and cabin fever which the boys begin to develop. We only witness the outside world in a corner of the theatre, which in my memory is full of flitting bird shapes and driving wind, even though these were evoked only through Christopher Preece's wonderful sound design.
The four main characters in this play are all very distinctive personalities, with two actors in particular standing out for their chemistry and comedic abilities: Rose Wardlaw as Ellen and Jack McMillan as John. In a story with an excess of navel-gazing, faux-edgy philosophising, and lulls, their interactions were some of the times when I found myself most captivated. Others included the snippets bordering on magical realism, such as an almost bacchanalian "pagan hymn" performed at a funeral, and the dreamy rapture of Ellen recounting an act of life-changing voyeurism. It was at these points that Jessica Lazar's directorial touch shone through most clearly, as well as the neat work of movement director Jennifer Fletcher.
It is clear that a number of talented creatives have worked on this production, as we have come to expect from the team at Atticist. However, Outlying Islands is ultimately let down by its script, which gets bogged down in dialogue often reminiscent of a first-year philosophy student's self-important extemporising on matters of self and society. That said, this didn't irk my companion as much as it did me, ("possibly because I'm a pretentious white male myself" – his words!), and if that doesn't sound like a deal-breaker for you, then I would absolutely recommend taking yourself to Islington to catch this eloquently staged production before it flies away.